For Motorola Milestone 3.5G or 3G network, please follow the steps below: If you need more information like rooting / jailbreak any Android Devices like
Nexus One
/ HTC Dream /
HTC Magic
, you can select the jailbreak menu bar. Luckily someone managed to root
Motorola Milestone
this week! I am waiting .. ( SINGTEL)..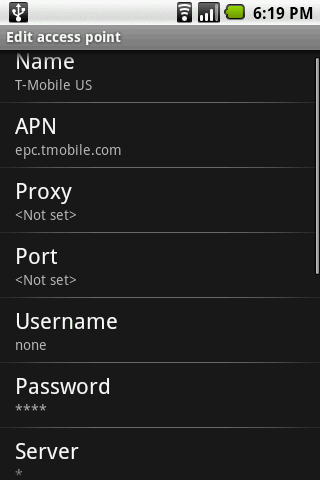 1. Go to Settings > Wireless & Networks > Mobile Networks > Access Point Names.
2. Hit Menu button, create new APN.
3. Enter new APN settings. See below for the details.
4. Hit Menu button, save settings.
5. Select the new APN name, then hit the home button. Your 3G connection will shortly appear in the top bar.
As the Motorola Milestone is an unlocked device which is purchased in Singapore, ideally the first place for users to look for support is the help section on this site which includes how-to videos, feature overviews, warranty info, a user's guide and help forum.
For Starhub customers:
- name: Starhub Internet
- APN: shwapint
- username: [leave blank]
- password: [leave blank]
For M1 customers:
- name: M1 Internet
- APN: sunsurf
- username: 65
- password: user123
And in case it is not working for SingTel customers:
- name: SingTel Internet
- APN: internet
- username: 65IDEAS (or blank)
- password: IDEAS (or blank)